Profile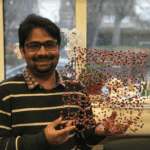 Sumit Konar
if I WIN I will make chemistry4fun: a website with 3D animation, puzzle, quiz, games.. school kids can chat with scientists.. https://konarsumit.wixsite.com/chemistry4fun
Curriculum Vitae
Education

Stockholm University (PhD), Arizona State University (MS), IIT Madras (MSC)

Qualifications

PhD

Work History

Stockholm University (Sweden), Arizona State University (USA), IIT Madras (India)

Current Job

Postdoctoral Research Scholar at Edinburgh University

Employer

University of Edinburgh (Joseph Black Building)

Our Research group website: https://www.pulhamgroup.org/research

School of Chemistry website: http://www.chem.ed.ac.uk/

My profile: https://www.researchgate.net/profile/Sumit_Konar
Favourite thing to do in my job: I make new crystals/molecules/compounds and solve their structures using X-ray. I squeeze any solid between two diamonds. I can reach thousands or millions times higher pressure than atmospheric pressure. At high pressures atoms come closer to each other and make bonds and thus a new compound is formed.

About Me: Chemistry is my passion; not only in research laboratory but in daily life, such as in cooking, in cleaning etc

Read more

I was born and brought up in a small village in India. I studied in Arizona state university (USA) and Stockholm university (Sweden) before I moved to Edinburgh University, UK. I live in Bonnyrigg (just outside Edinburgh) with my wife.  My favorite pizza is Papa Johns🍕. I love weekend road trips with my friends. I love experimenting with cooking. I can spend a Sunday watching thriller films one after another. The Big Bang Theory is one of my favorite television series. I recently watched STRANGER THINGS.

My Work: I make new crystals and solve their structures (solving structures means I find out how atoms are packed).. We made new compounds: such as explosives Tin Azide Sn(N3)2, semiconductor LiBSi2, anti-cancer drug C22H19N5O, hydrides K2SiH6 and many others. I also made TNT and put it under high pressure. Making new compounds are absolutely necessary for a better life.

Read more

In the laboratory I mostly do pressure cooking (synthesis at high pressure and temperature). Do you know pressure = force/area; smaller area = higher pressure; The high heel can exert more than 15 times the pressure of an elephant's foot. I use various high pressure apparatus; one of them is called diamond anvil cell (DAC) where I squeeze solids between two tiny diamonds (diameter of diamonds = 0.6 mm; how thick is you hair?). Diamond is the hardest material, and they are transparent to light and X-ray.  I can reach 100000 times or even higher pressure than atmosphere. Materials behave differently with pressure. This makes my research interesting. I can see changes in my solids under microscope. Sometime I see color changes or texture changes. I then use X-ray to study the structure of my compound. X-rays are one kind of light with much shorter wavelength (0.01 – 10 nm; remember our visible light is 380-740 nm). You probably heard about X-ray imaging when someone had fractures; but I use X-ray for scattering. X-ray diffract (scatter) from atomic planes and produce spots/rings in regular gaps (like stars in the sky). If I make something crystalline (like sugar, salt, sand) I see sharp spots, otherwise I see rings. All different solids produce different patterns, and therefore I can identify whether I made something new or I made a known compound. You heard about double helix structure of DNA; it has been solved using the X-ray technique more than 60 years ago. I will you tell you the story of my research; I work on explosives like TNT; and also small molecular experimental cancer drug.

Another part of my research is purely for developing countries (such as India). I am involved in a research where pollutants (such as bacterias) in water can be killed using sunlight and a catalyst (this process is called photocatalysis). I study the efficiency of my catalyst using UV-visible spectroscopy. I am also involved in another research where I am planning to make a solar cooker where sunlight can be stored in a phase change material during the day; and at night all the stored heat can be used for cooking. I am happy to discuss in detail if you want to know more.

My Typical Day: Either in the laboratory to play with chemicals or at the computer desk to analyse the X-ray data

Read more

I try to spend mornings in the laboratory and afternoons at my office.  In the laboratory I spend most of the time doing my own experiments and also supervise undergrad and PhD students as required. In the office I spend time analysing the data, writing my research in a short, concise story that can be submitted to a scientific journal. I take occasional coffee breaks. At least three or more times a year,  I visit Rutherford Appleton laboratory for challenging experiments. After I publish my result in scientific journals, I try to find an international conference, and present my discovery. I already visited nearly 25 countries in last ten years.

What I'd do with the prize money: We will build a chemistry website (chemistry4fun) with interactive quiz and games.. All of you can take part; you can ask questions to us all the time seeking any guidance/help; video tutorials and 3D animations will be uploaded.. it will be FREE to use.. Learning chemistry will be fun.

Read more

The website will be interactive.

1.You can directly ask a question to a scientist.

2.You can plan a visit at university by contacting a scientist directly. We, the scientists will try to organise few workshops with you; we can make plans through this website.

3. It will not only be educational but also filled with fun games/quiz etc. 2019 is the 150 years of Periodic Table. I already started making a periodic table; my plan is to develop some fun chemistry games with this periodic table. This is just an example. Other part of chemistry can be easily understood with my website; where I will allow other teachers/scientists across Scotland to participate and help me building the website.

4. We will try to explain all complicated chemistry in an easy way; you will understand the basic chemistry used in our daily life (such as cooking, cleaning etc).

5. If you have any fun event happening in your school, you can share here with other students from different school; perhaps they will be interested to join.

Why I need the money? To build the website I need to buy the domain. I also need to renew it every year. I will add all the cool features in the website; so that it will be very easy for you to use.

My Interview

How would you describe yourself in 3 words?

optimistic, opportunist, friendly

What or who inspired you to follow your career?

My grandfather who was a chemistry professor at Michigan

What was your favourite subject at school?

Chemistry

What did you want to be after you left school?

I wanted to study abroad

Were you ever in trouble at school?

Yes, I was not very good in couple of subjects including remembering facts in the history book

If you weren't doing this job, what would you choose instead?

Everyone says I am funny; I might be a comedian

Who is your favourite singer or band?

The Beatles

What's your favourite food?

Thai fried rice

What is the most fun thing you've done?

Watching Northern light

If you had 3 wishes for yourself what would they be? - be honest!

A journey to moon; A cool discovery in Chemistry; Travel all countries in the world

Tell us a joke.

Chemists can find tungsten carbide (WC) in toilet.
---
---