Profile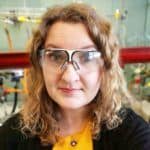 Bryony Hockin
I am a PhD student in Chemistry at the University of St Andrews, studying how to make chemical reactions happen using the power of sunlight.
Curriculum Vitae
Education

Priory School, Lewes (2005-2010); BHASVIC sixth form college, Brighton & Hove (2010-2012); Durham University (2012-2016); University of St Andrews (2016-2020)

Qualifications

GCSEs: 10A* grades in: Maths, English Literature, English Language, German, Spanish, Latin, Chemistry, Biology, Physics, and Art. Distinction grade in ICT. A-Levels: Grades A*A*A* in Mathematics (core and statistics), Chemistry and Biology A-Level, and an A in Creative Extended Project. MChem (first class, with honours). Currently working on a PhD!

Work History

Volunteer, Age UK Charity Shop (2014-2015)

Current Job

Postgraduate Demonstrator - University of St Andrews

Employer

As well as my PhD I work for the University as a teaching assistant. This means that when undergraduate students learn how to do experiments in the lab, I'm the one helping and teaching them. I show the undergraduate students how to set up experiments, and when things go wrong I try to fix them. I wear a special bright green lab coat so everyone can easily spot me in the lab and come and find me to ask questions!
Favourite thing to do in my job: Being in the lab and doing experiments with chemicals that go pretty colours

About Me: I am a PhD student studying how to make chemical reactions happen using the power of sunlight!

Read more

Hello, I'm Bee! I live in St Andrews in Fife and I have a cat called Inky. My preferred pronouns are they/them. I love cooking vegetarian food.

I am studying to become Dr Hockin – to do this I am working as a researcher on a topic in chemistry, supervised by a professor in the chemistry department. On a daily basis I do chemistry experiments and then write about them. Here is a picture of me in the lab, wearing goggles to protect my eyes of course. I make lots of cool brightly coloured chemicals, some of them even glow in the dark!

My Work: I make chemical reactions happen using the power of sunlight! I make lots of molecules out of copper and then use them like antennae to direct light energy into chemical reactions; this is greener than using heat energy.

Read more

I am working towards a PhD in Chemistry at the University of St Andrews; I do research about making chemical reactions happen using sunlight, and run experiments to make new chemicals. I also have a job teaching undergraduate university students practical chemistry. I make lots of very pretty glowing molecules and then use them like antennae to direct light energy into chemical reactions; this speeds up the chemical reaction that wouldn't otherwise happen without the energy from light.

My Typical Day: A mix of doing experiments, writing computer code to predict what the experiments will do, and lots of paperwork! Plus at least one tea break.

Read more

During my work as a PhD student, I decide which hours I work, so usually I'll come into my office at 9am (if I'm tired it might end up being 9.30am…) I'll answer a lot of emails and then start doing experiments in the morning. The experiments I do usually take a few hours so I can set them up and then go and have lunch! I also write computer code so that we can predict what molecules will look like and how they will behave before we make them. This is useful because it means we can compare the predicted properties of the molecule with what they actually do!

I teach classes of undergraduates as a separate job to my PhD, usually for 3 days a week. My class has between 60 and 90 students in a big teaching laboratory where the students learn how to run experiments. I'm there to help them out with setting things up, helping fix things when they go wrong, and answering any questions that the students have about the chemical reactions they're doing. I'm not all alone when I do this, there's usually two or three other teachers walking around the lab because the class is so big, and the teachers all wear bright green lab coats so it's easy to spot us when we're wandering around the lab (all the students wear white ones) I really enjoy teaching and helping students understand chemistry! It's a very tiring job though because I'm standing up and walking around all day, sometimes I find I haven't sat down for 4 hours…

What I'd do with the prize money: Bring school students to visit our labs to see what real scientists do all day!

Read more

I would use the prize money to bring groups of school students of all ages to visit the School of Chemistry at the University of St Andrews. Class groups could visit a working research laboratory for a tour and find out what scientists do all day, see some fun science demonstrations and try doing some real experiments themselves. Last year I ran an activity exactly like this for 90 students in Primary 6/7 (ages 9-11) and it was so much fun! We made bottle rockets, liquid nitrogen ice cream and glowsticks (and a lot of mess…)

My Interview

How would you describe yourself in 3 words?

Chemistry, cats, cake!

What or who inspired you to follow your career?

Rosalind Franklin, Helen Sharman, and my secondary school Chemistry teacher Mr Baker.

What was your favourite subject at school?

Art

What did you want to be after you left school?

After primary school: a pirate. After secondary school: a scientist.

Were you ever in trouble at school?

Yes, I once accidentally ate someone else's breaktime snack because I thought it was mine!

If you weren't doing this job, what would you choose instead?

I'd probably be an artist or a musician (my other two passions!)

Who is your favourite singer or band?

Right now it's BTS

What's your favourite food?

My mum makes the best shepard's pie!

What is the most fun thing you've done?

I took a solo tour of Washington DC and went to the Air and Space Museum, they have an actual piece of the Moon that you can touch! (I'm such a nerd)

Tell us a joke.

I'd tell you a chemistry joke but all the good ones argon.
---
---