Profile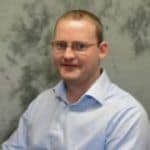 Andrew Jamieson
Curriculum Vitae
Education:

Strathaven Academy, University of Glasgow, University of Montreal, Yale University, Oxford University

Qualifications:

BSc degree, PhD

Work History:

University of Leicester and then Glasgow

Current Job:

Senior Lecturer

Employer:

University of Glasgow

http://www.chem.gla.ac.uk/jamiesonlab/

https://www.gla.ac.uk/schools/chemistry/
Favourite thing to do in my job: Design novel molecules

Read more

I live in Strathaven (near Glasgow) with my wife and two kids, James and Finlay. My main hobbies outside of chemical biology are running, rugby and snowboarding.

My Work

Senior Lecturer in Chemical Biology

Read more

I work as a senior lecturer in Chemical Biology at the University of Glasgow. My job can be divided into two parts, teaching students and research. I run a research group that includes PhD students and postdoctoral research fellows (more experienced scientists). We are all chemists who are interested in biology, so we make chemicals that can help us understand biology.

Below is a photo of my working in the lab. More images of the equipment we use can be found on my groups website

http://www.chem.gla.ac.uk/jamiesonlab/

Read more

In a typical day I will start by answering lots of emails from students and people I work with on research. I'll then go to the lab and talk about research with the group. I'll generally have a couple of meetings each day, either to plan teaching or research.

What I'd do with the prize money

Develop virtual reality outreach activity

Read more

We use advanced computer software to look at proteins and design cool new molecules. Virtual reality (VR) headsets can now be used to do this and so I would buy a headset, develop an outreach activity in which school students can use them to design a chemical and take the activity around lots of schools to give students a better idea of how cool and fun being a chemical biologist is!

My Interview

How would you describe yourself in 3 words?

Approachable, fun, daft

What's the best thing you've ever done in your career?

Developing a drug to treat malaria

What or who inspired you to follow this career?

My dad

What or who inspired you to follow your career?

The people who supervised me as a student

What was your favourite subject at school?

Biology (was easily the most fun subject at school)

What did you want to be after you left school?

A virus hunter

Were you ever in trouble at school?

....lots

If you weren't doing this job, what would you choose instead?

Farmer

Who is your favourite singer or band?

Calvin Harris

What's your favourite food?

Chicken Tikka curry

What is the most fun thing you've done?

Go to California for a conference (scientific meeting)

If you had 3 wishes for yourself what would they be? - be honest!

1) be able to fly 2) no email, only talk to people in person or on the phone 3) coffee machine in my office

Tell us a joke.

Why did the chicken cross the road...to get to the other side. Why did the dinosaur cross the road...to eat the chicken!!
---
---
---